Gimme some Red Ponies!
Dassss right, Hippie darlings! Bold lips and simple hair are our go-to this holiday season-mainly because it well suits the vice of lazy days.
Throw your hair back in a pony, strap on a blazer and let your lips do the talking.
Here's some aggrandized red looks that we think are rad.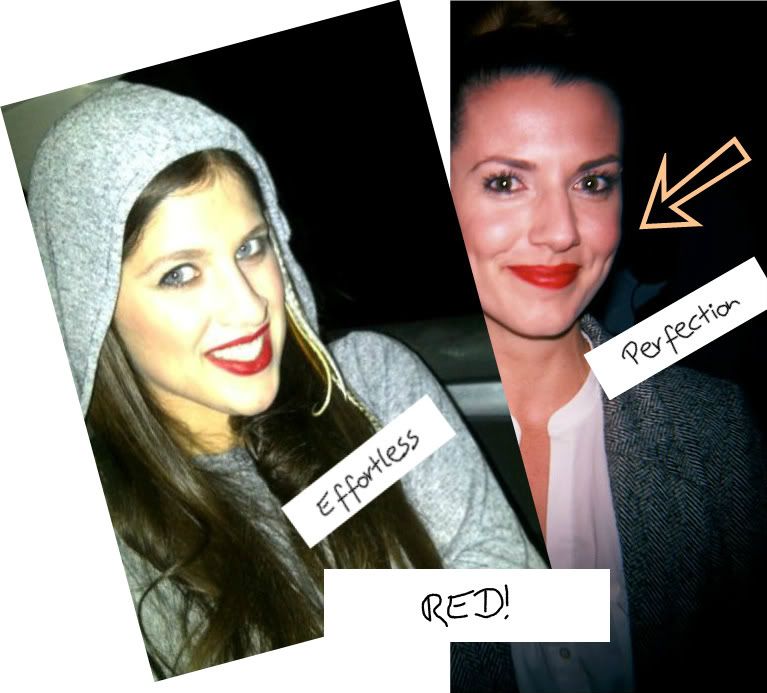 Color from yo motha: Reds for Skin Tones
Honestly, going red is trial and error. Most 'experts' deem oranges a perpetrator of hate on fair skin tones and maroons glorious on olives. Trouble shoot your own color palette and you'll learn what looks best on you. Here's what we used.
Having completely different skin tones, we both found (unknowingly) that CoverGirl's 305- Hot Passion worked well on both of us. I found it tempting mainly because it was fairly easy to smooth on my lips, while Asher went straight for the dominance of his bold hues. Hot Passion is a well diversified loyal man..
305-Hot Passion by CoverGirl (This would be cuter if my hair was up)
Scared to go Red? Don't be. You may think you look like a crazed clown at first- but lets face it, its impossible to hate a classic look. If you are fair skinned (with plump lips, like myself) opt for red lips with a clear gloss on top to water down the color.
Stila makes great Reds that work for beginners. Try a stain- its more than a gloss but less than a lipstick.
We like Stila Cherry Crush.
Other Notable Reds we

LOVE

:
Mac- Russian Red
Loreal Infallible- Le Rouge
Cover Girl- Tempt
Lipstick often gives you that dry feeling that makes you timid towards conversation or confidence. Try moisturizing your lips before you know you are going to smack on some color. Vitamin E And Honey can go a long way. Just smudge some on your lips. Add a tea spoon of sugar for a great DIY exfoliation.
Lip stick smearing? Try taking some aerosol hairspray and giving it a quick spray on your lips. This works wonders on glitter lips.
REMEMBER: Red is Ravishing so let it speak for you. Go simple with hair and makeup. A little red is all you need.