..long were the days that our faces would factotum a fadaise of foul play. With spring coming up, its all about the fresh faced fun. But, lets be honest...we arent all blessed with flawless skin. Here are some of the tricks we use to ignite a glowing conflagration.
We opted to shy away from photoshop just for you..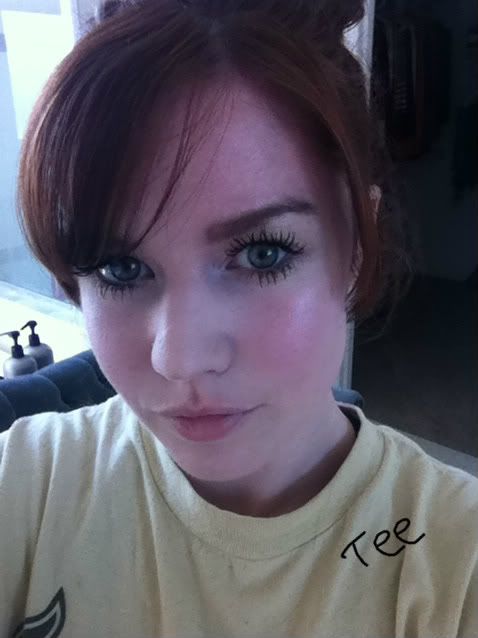 Oil of Olay: Before I begin anything i ALWAYS ALWAYS apply a non comedogenic lotion all over my face. My mom has always used oil of olay, so I suppose it was genetically gifted to me as well. I use Oil of Olay Complete All Day UV moisturizer for normal skin with SPF 15. Ill let this sit for about 5 minutes or until its nearly dewey, while the skin absorbs the lotion's vitamins.
MAC Prep + Prime Fortifying Skin Enhancer: Yes, Im fortunate enough to have a beautiful sister as a makeup artist for MAC and she always points me in the right direction. Until using this miracle worker, I found that my makeup started caking around my checks and nose area throughout the day. MAC has completely eradicated that issue. This primer goes on just like lotion and literally makes my skin look flawless for days-if I decided to leave it on for that long. Ill let this sit for just a few minutes before applying my makeup.
Bare Minerals: Depending on the day- if im running errands or attending a party (which is rare), ill either just use mineral veil or their loose powder/foundation. I obviously use the color "fair." For those of you with sensitive skin or irreconcilable breakouts, I would really recommend switching over to mineral makeup. Its much lighter on skin and can decrease your number of breakouts.
MAC Pigment-Bright Fuchsia Frost: Now here is my secret. Instead of using a matte blush, I opt for loose pigments or shimmery colors on my checks-wether those be shadows or blushes. MAC's bright fuchsia is something I think I could not live without. It definitely gives me that glowing pop I need to have on my fair face. Find this survival gem by clicking here.
After I complete my founded new look, if I see that my makeup doesnt look a la natural I do one of two things; 1. I will take a blowdryer on low heat and blow out my face for a few seconds. This allows my face to absorb the makeup as opposed to having the makeup just sit on my face. If im feeling energetic, Ill do a few jumping jacks, squats, or sit-ups to get the blood pumping.
Eyes: My shadow colors vary day to day but for the sake of being consistent, ill tell you what was used in this picture. I normally like to mix matte colors with shimmer. However, for a glowing face, I prefer shimmer on eyes. In this picture I used TooFaced fashion on the base of my lid. On the inner corner of my eye, I used Nude Beach and followed under my eyes with that color as well. On the outer corner of my eye I used Honey Pot--all colors by TooFaced, which came in an amazing palette (Natural Eyes Collection) given to me by a wonderful TooFaced rep. This has become my new obsession and I recommend any girl to buy this. These browns are perfect for ANY face. I topped off my look with TooFaced Size Queen mascara. To make this look more drastic (a la day to night) try adding Urban Decay black pencil liner into the mix. MAC engraved and smolder are also a few of my favs.